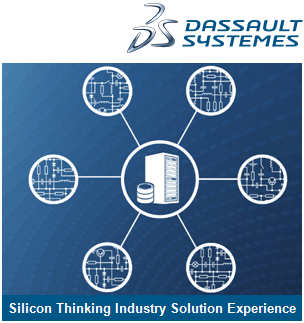 Turn Technical Complexity into Market Profitability
Advancements in integrated circuit (IC) density and competition for market leadership drive
demand for more complex devices from semiconductor manufacturers. To compete successfully,
manufacturers must use teams of diverse design specialists and complex project workflows to
maximize device differentiation and team productivity. As a result, IC projects carry increasing
business risk.
Dassault Systèmes Silicon Thinking Industry Solution Experience provides a portfolio of IC design
and engineering performance enhancements that help mitigate project risk, shorten time-to-market,
and increase product quality and yield. Silicon Thinking provides these benefits through:
• Efficient intellectual property (IP) management and reuse
• Graphical analytics to manage design closure
• Instant access to the latest design data for all design teams
• End-to-end traceability, from requirements to verification and validation
• Packaging reliability simulation and testing
• Enhanced product variation and defect management
With this solution portfolio, semiconductor manufacturers can more quickly and easily untangle
the simultaneous challenges they face from the demands of increasing chip complexity, lowering power consumption, and achieving faster time-to-production and higher yields.
SEMICONDUCTOR COLLABORATIVE DESIGN PROCESS
Enable collaborative design for complex semiconductor projects :
Dassault Systèmes Silicon Thinking Semiconductor Collaborative Design process integrates deep design analytics from ENOVIA® Pinpoint® and design data management from ENOVIA Synchronicity® DesignSync® to enhance team productivity for IC design. This process experience is used today by over 120 IC development organizations around the world to boost design team productivity.
ENOVIA Synchronicity DesignSync
ENOVIA Synchronicity DesignSync helps centralize IC design data management for large, distributed projects. Design data is captured directly from electronic design automation (EDA) tools into a hierarchical data structure, which then provides coordinated access for distributed design teams. This hierarchical structure directly supports an IP-block assembly approach for rapidly designing customer-specific ICs. It helps simplify and speed integration of design sub-elements into the overall IC design, facilitating design reuse.
ENOVIA Pinpoint
ENOVIA Pinpoint provides managers with dashboards and graphical analytics to assess and accelerate design closure. ENOVIA Pinpoint enables analysis of diverse design, simulation, and testing data with historical timelines to help you see where projects might be diverging from planned milestones. Project managers and designers have a shared view from which to make joint project management decisions.
To help ensure that complex integrated designs succeed, the right foundation for collaborative design and information systems is essential. Dassault Systèmes Silicon Thinking Semiconductor Collaborative Design process:
• Scales across large, distributed teams
• Supports IP reuse and variant optimization
• Works with multiple application platforms and keeps designers "designing"
• Maximizes information access
• Accelerates project decision making through automated, advanced analytics, and dashboards.